Afterlife: the mounted skin at Naturalis, Leiden (The Netherlands)
The Blue Antelope in Leiden is the scientific "type" specimen, that was described by the naturalist Pallas in 1766. It is a remarkable specimen, not just because of its value as exemplar of an extinct species. The quality of its taxidermy is excellent - having been done by the famously skilled Dr. Klockner. As such it stands as a significant object in cultural as well as zoological history.
Image © RMNH Naturalis
Naturalis is the Royal Museum of Natural History in the Netherlands, and this is one of their treasured specimens. Formerly it was on view to the public in a 'Schat Kamer' - translating as treasure room. In the new and purpose built museum it is secure in a tower of twenty storeys dedicated to the taxidermy collection.
Further information about Naturalis: www.naturalis.nl
The object history of this specimen has received careful attention. Husson and Holthuis, senior staff at Naturalis, managed to rebuff Erna Mohr's claim (1967)that theirs was not the "type" specimen. Sleuthing skills of the authors and their colleagues meant that a crucial link in the historical chain was found, in the form of a reciept for the transport of the animal from a collection in Haarlem to that in Leiden, in 1842:
"For transportation: for the tow-barge f.2.00, for the Antelopes f.0.60. For delivery f. 0.85. For consumptions f. 0.75. For the purchase of the antelopes f. 47.10. Total f. 51.30." (Receipt for passge from Haarlem to Leiden, 1842)
The specimen survived the attempts of Jentink, a curator in the end of the nineteenth century, to remove the skull. A few fragments from the lower skull were extracted, but according to Husson and Holthuis, "at least part of the dorsal portion of the skull is still inside the head of the mounted specimen".
The skull fragments extracted are shown below: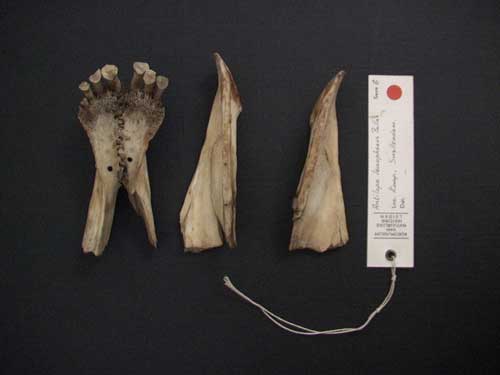 Image © RMNH Naturalis
Grateful acknowledgement to the curatorial staff at Leiden for support, and permission to use images of this specimen throughout this website.
Reference: Husson AM and Holthuis LB. (1969) On the type of Antilope leucophaea Pallas, 1766, preserved in the collection of the Rijksmuseum van Natuurlijke Historie, Leiden. Zoologische Mededelingen 44:11