Exhibition Details: Hunterian Zoology Museum, 2006
Dates: 21 August to 24 November, 2006
Times: Monday to Fridays, 9am to 5pm, excluding Bank Holidays
Main Venue: Hunterian Zoology Museum, Graham Kerr Building, University of Glasgow, G12 8QQ. Exhibit of skull and bookwork by Kate Foster and Hayden Lorimer
Photography Display: University Visitor Centre, Main Building, University of Glasgow, University Avenue.
Admission free
Exhibition Information
Precious little remains of the Blue Antelope, a species of animal once found in Southern Africa but extinct by 1800. The Hunterian collections retain one of the only two skulls still in existence.
This exhibition consists of three elements - the skull, a bookwork, and photographs of specimens in other collections.
The skull itself will be on public display in the Zoology Museum for the first time in many years. An accompanying bookwork by Kate Foster (artist) and Hayden Lorimer (geographer) maps the outlines for "A Geography of Blue".
At the University Visitor Centre, there is an opportunity to see what the animal might have looked like. Only four stuffed specimens survive and a series of photographs of those held by the Dutch and Austrian national museum collections were taken for this exhibition.
The dedicated exhibition website www.blueantelope.info introduces different ways of looking at the skull, the animal to which it belonged, and the humans entwined in its history.
The Blue Antelope Project was the result of an Artist's Residency in the Department of Geographical and Earth Sciences at the University of Glasgow, funded by the Leverhulme Trust. This BioGeoGraphical work by Kate Foster, Hayden Lorimer and Merle Patchett depended on the support of Maggie Reilly, curator of the Zoology Museum.
If you are unable to visit the exhibition click on the image below to see the photos: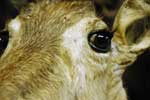 Image © Natural History Museum of Vienna
Click on the image of bubble wrap below to see the skull in transit from Edinburgh to Glasgow in June 2006: