Afterlife: Accession Number ZM818
Once, way back in Empire's day, violence was done ... but one more small prize in a joyful, free-spirited devastation, and all too soon species history stubbed out.
Anatomical details can be documented according to tampering done: some slight cuts, above the backbone.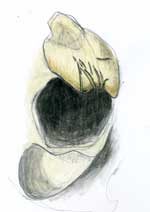 A chip on the mandible edge - sliced perhaps when it was skinned.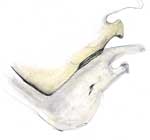 Then sometime and somewhere after death, further mischief followed - horns slipped off the broken bony core inside

and a hole drilled later into the jawbone.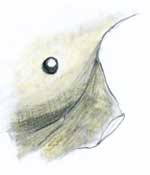 Amidst the skull's outcrops, slopes and craters are clues to two centuries of treatment, storage and a strangely posthumous ethic of care. As a prized, and sometimes private, exhibit, the conditions for custody and continued undertaking have changed according to each new museum regime.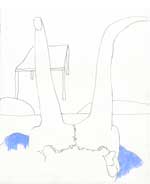 Why re-examine these mortal remains? What might be solved by measurements of dimension and proportion; of the length that runs along tooth-and-jaw line? Perhaps even the slightest chance to unravel the mystery of the victim's true identity.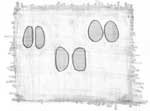 But deduction ultimately requires verifiable, factual information. No fresh evidence may come to light. Old world sleuthing might even have had its day. Others can go worming into the regions of the mind for DNA.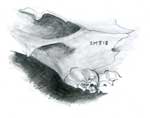 Yet, this forensic art holds different promise. Executed with ony the aid of sharpened pencils, it reverses the inward looking logic of inventories of museum accessions. No gentle escapism or innocence then, and instead, emotional passion and an unflinching modus operandi...
.. a story from the past contrived to foretell of certain realities, as if a premonition for other losses yet to come. A bluebuck myth, and murder ballad.
Accession Number ZM818 © Kate Foster and Hayden Lorimer(2006)